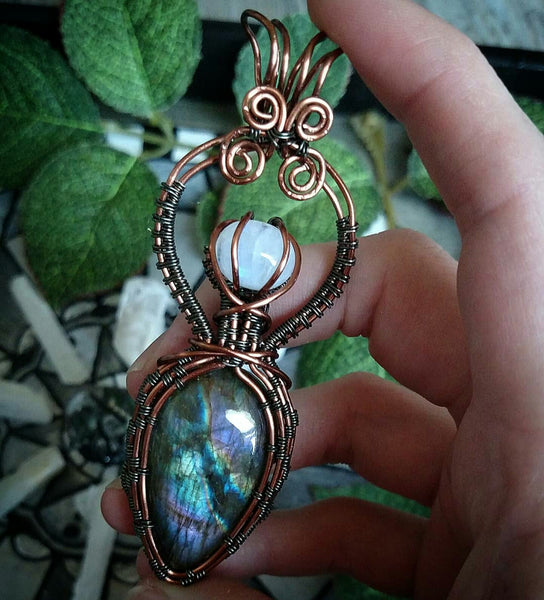 "Persephone" Wire Wrapped Goddess Pendant
Named for the goddess herself! This beautiful purple Labradorite and blue moonstone goddess is here for you with the best of intentions!
Wrapped in antiqued copper and hematite colored sterling silver plated non tarnishing wires.
Comes on matching chain.
Persephone the goddess represents a female archetype of a medium, a mystic, a shamaness. She is intense, imaginative, poetic, sensitive, keenly perceptive and often psychic.
Persephone personifies someone inherently pure and incorruptible, someone who can live amidst darkness but not absorb it. Her light shines wherever she is; her connection to the world of spirit is unshakeable.
Persephone represents the importance of introspection and knowing thyself.
From https://exemplore.com/legends/10-Archetypes-of-Female-Empowerment
METAPHYSICAL PROPERTIES*
Labradorite is known for the following:
♥ Transformation ♥ Promotes psychic abilities ♥ Strengthens our will ♥ Stimulates imagination ♥ Calming- relieves stress and anxiety
Moonstone is known for the following:
♥ Happiness ♥ Good fortune ♥ Nurturing ♥ Mothering ♥ Unselfishness ♥ Humanitarian ♥ Love ♥ Hope ♥ Spiritual insight ♥ Easy childbirth ♥ Safe travel ♥ New beginnings ♥ Abundance ♥ Ancient wisdom

From charmsoflight.com
*Metaphysical properties are anecdotal